Even if you have the correct encryption key, it is not possible to use web browsers such as Google Chrome and Microsoft Edge to view encrypted files. This is because the built-in PDF viewer in web browsers are not able to view protected PDF files.
The way around this is to download the file and configure your browser to open PDF files with different PDF viewer software, such as Adobe Acrobat Reader.
Microsoft Edge
When trying to open an encrypted PDF file with the Microsoft Edge PDF reader, you will likely encounter an error similar to that shown below.
Good to know
In Windows 10, Microsoft Edge is the default PDF reader app and handles PDF associations.
You might also want to stop Microsoft Edge from being your default PDF viewer in order to switch to an external application like Adobe Reader more permanently.
To disable Microsoft Edge from being the default PDF viewer app:
Open Settings
Click on Apps
Click on Default apps
Click the Choose default app by file type option as shown
Click the current default app for the .pdf file format and select the app you want to make the new default
Good to know
You can also change the default app to open PDF documents by using the:

Set the default by app option in settings, or
Choose another app option from the Windows File Explorer content menu
Google Chrome
When trying to open an encrypted PDF file in Google Chrome with the built-in Chrome PDF viewer, you will encounter a "Failed to load PDF document" error as shown.
The easiest way to do configure Google Chrome to use an alternative PDF viewer is as follows.After downloading the PDF document:
Click on the arrow next to the file in the download bar to get additional options
Select "Always open with system viewer"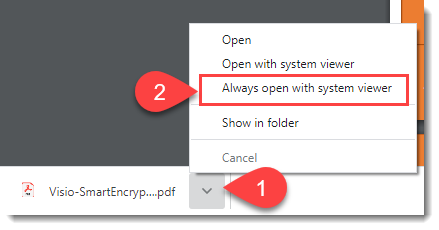 PDF files will now open immediately after downloading in the PDF viewer software you have installed.